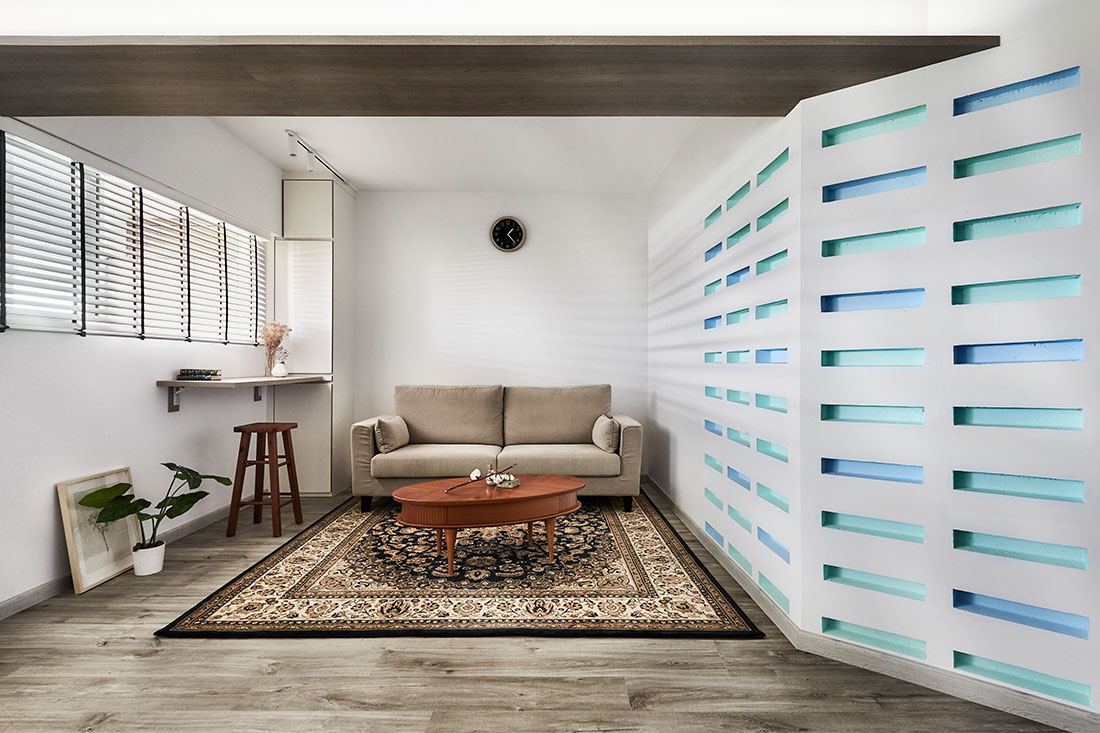 Despite this home's unconventional-shaped floor plan, Design Directaor Amanda Pang turned the 3-room HDB flat around with a free-flowing spatial composition. She took into consideration the retired occupant's Peranakan heritage and created a simple and easy-to-maintain home with an abundance of storage space.
The common bedroom was hacked away to introduce a larger and brighter communal area, with a colour scheme of white, woody tones and soft blue accents. The blue accents were used to accentuate the recessed backings of the ventilation block-inspired feature wall.
Wood-effect laminate finishes were also deliberately used on the ceiling feature and cabinetry to create a prominent and parallel line of vision, with recessed lighting added to reinforce the spacious visual effect.
The kitchen had an open-concept and expanded to include a new storeroom. The kitchen backsplash was further embellished with white and blue Chinois accented tiles. Traditional Peranakan-inspired glass panels were also used as part of the dishrack cover and storeroom door which was extremely notable in comparison to the kitchen's dark concrete floor.
The master bedroom merged with the existing storeroom and parts of the hallway to create a bigger space. This allowed a walk-in wardrobe to be included with additional storage outside the ensuite bathroom. A minimal colour scheme of white and soothing wood tones was used throughout the master bedroom, with a similar feature wall of ventilation blocks to establish a design connection between the communal and private areas. 
The bathroom was fitted with blue Peranakan styled wall tiles which tie together with the blue-and-white colour scheme in the kitchen. This home design was well-thought-out and specially curated for the retired homeowners.
This home design has also been featured in LookBox Living, Home and Decor and Asia One.