In this project, AMP Design managed to nail the design brief: Ample of storage which is multi-functional, an extendable space for gatherings and the homeowner's love for music.
Though this 700 square foot apartment may sound small, Design Director Amanda Pang turned it to a living space with an outstanding amount of amenities and storage despite its size.
Apart from storage space, an entertainment area was achieved when one of the two bedrooms was hacked away to create more space. Besides serving its purpose as a chill-out area, it also functions as an invisible storage space. Hidden storage can be found throughout the sitting areas and beneath the raised platform in the entertainment area.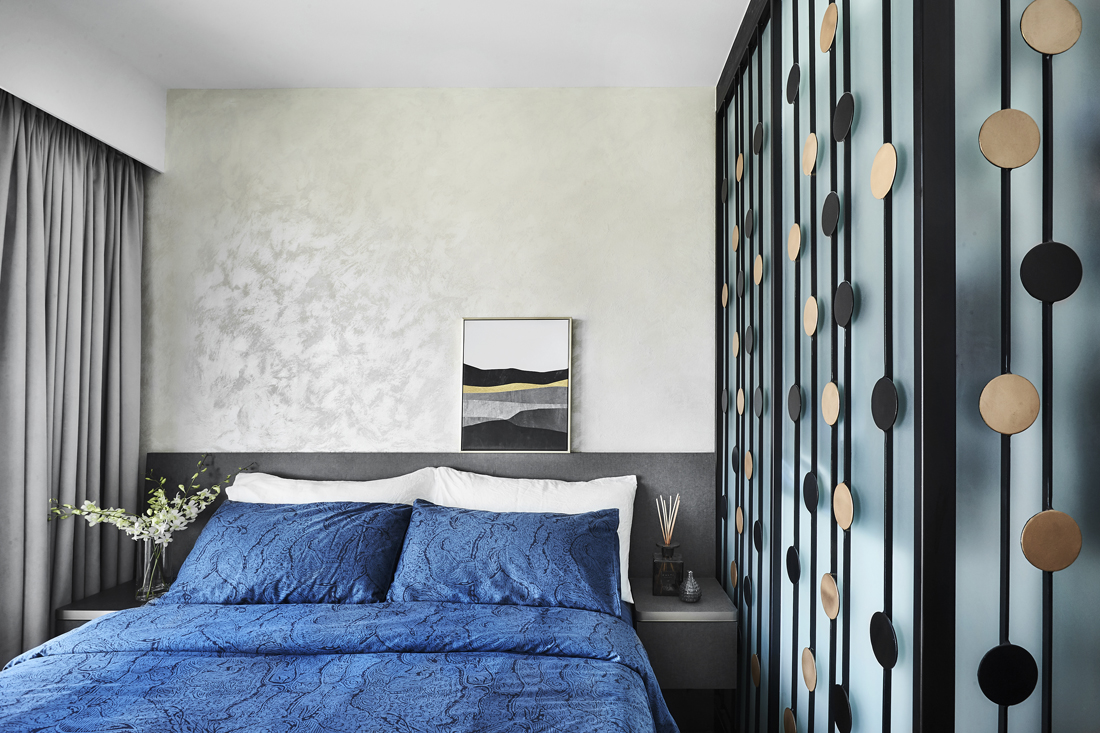 The space in the master bedroom was also maximized by the hacking of the boundary wall between the bedroom and living room. This allowed a full-height closet space and custom storage compartments to be built. The custom bedframe was further built to maximize storage space in mind where the homeowner could store her diving and sports equipment.
The bathroom was also adorned with blue Peranakan tiles which follows the colour scheme of the apartment, achieving visual harmony in the home. To fully complete the Peranakan-industrial style, cement-like floor tiles with its neutral tone were used in the bathroom.
What stands out in the apartment is not its size but the turquoise and dark blue tones that serve as accent colours throughout the entire space. Amanda specially chose the use of vintage ventilation blocks, patterned tiles and brass-finished pendant lights with scallop details to accentuate the Peranakan style influences. The customized metal grille design was implemented in both the living room and master bedroom as a decorative focal point and visually connected the social space and the private space, taking the inspiration from the musical notation and the importance music plays in her space.
The result is a flawless and visual symphony of two opposing styles. Truly well designed, it was one of the favourite picks for the most viewed homes by LookBox Living in 2019 and awarded Best Residential Apartment Singapore at The International Property Awards 2020-2021.